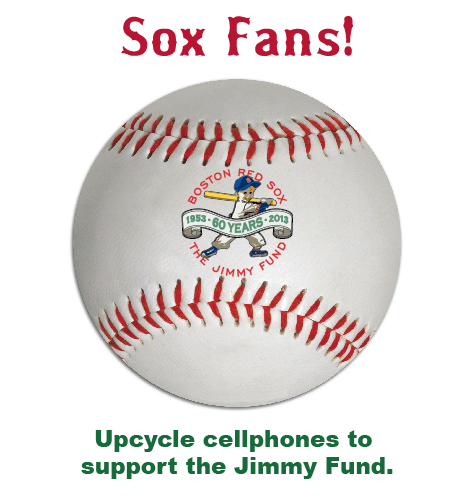 In honor of the 60th anniversary of the Jimmy Fund, The Boston Red Sox is hosting an in-park Upcycling collection program taking place during the month of August to create funding for adult and pediatric patient care and cancer research.
Red Sox fans are asked to Upcycle their outgrown cellphones, such as smartphones, (even those with shattered screens.) Upcycle collection receptacles or Upcycling reps. will be available at all five entrance gates during/for the next 12 games at Fenway Park.
Can't make it to any of the games? Fans can still support the Jimmy Fund/Red Sox by spreading the word to friends and family, by donating their cellphones, laptops, tablets, iPods and more online through this link: https://www.causesinternational.com/upcycle/jimmy-fund-red-sox
Get your free FedEx shipping label and help conquer cancer! Upcycling cellphones is an eco-friendly way to make a contribution to The Jimmy Fund without writing a check, so Upcycle today!